The Lada Guys (and Girl!) – All About Us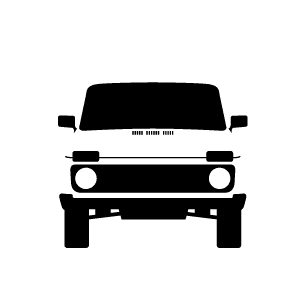 Who Are The Lada Guys?
We've been operating 4×4 tours as Drive Albania since 2014, at first with Land Rovers, more recently with Lada Nivas and UAZ 452 Classics (there's a bit of Russian theme going on here…). Our Ladas have mostly been used for planned self-drive tour packages with a set route, itinerary and accommodation provided, but we've realised that many people prefer to just hire a car and go off and do their own thing. So for 2020 we decided to make our Lada Nivas available for straightforward, no-strings hire, under the banner The Lada Guys – as we're known for driving Ladas, apparently, and are guys, definitely.
Why Lada Nivas?
When we first started offering off-road self-drive tours, we knew our old Land Rover Discoveries would be a disaster – too big, too heavy, too unreliable. At first we looked at Dacia Dusters, which are very capable off-road… but painfully dull. Then in a moment of inspiration, we took ourselves down to the Lada dealership, one thing led to another, and we drove out in our first Niva. To our mind, there's simply no better car for Albanian road conditions. The Niva is small, light, robust and incredibly simple. They go quite literally anywhere. And they also have that all-important "X-Factor" – they ooze charisma and the attention they get is astonishing. It's quite normal to be pulled over by the police just so they can take a look.
The Lada Guy Difference
Generally when you hire a 4×4 or SUV, you'll be given a list of terms and conditions so prohibitive that you'll be scared to take it off asphalt. We're different – when you hire a Lada Niva 4×4 from us, we want you to drive off-road. That's the whole point of a 4×4. We're not concerned by minor scratches to the paintwork (though we do expect you to drive responsibly), and if you return the car covered in mud we're not going to charge an extra cleaning fee. We want you to have fun with your Lada and use it as Brezhnev intended. Read our full terms and conditions here.     
Henri Manushi
Your first point of contact if you want to hire a Lada Niva. Henri is one half of the 2017 Rally Albania championship-winning team so knows his 4x4s – and has done things with Nivas that would turn your hair white. It'll likely be Henri handing you the keys and briefing you on how Ladas work – please listen as they are strange little cars and we'd hate for you to press the wrong button…
Megi Zorba
Our glamorous office manager Megi took the job thinking she was going to be working for a dynamic adventure travel company. Instead she's found herself spending half her day hanging around oily garage workshops. She keeps smiling throughout, though, and has unexpectedly developed an affection for Lada Nivas (though she draws the line at taking them for convergence). 
Bubi
Bubi the Office Dog joined DTB Travel on a temporary basis in 2015 and in his mind has become completely vital to the business. We're not sure what he contributes apart from Bubi Hairs and the occasional fart, but he's unlikely to be headhunted by another travel company any time soon so we guess we're stuck with him.